Our Veterinarians
Dr. Randall Hees, DVM

Veterinarian
I grew up on a farm in Pflugerville, went to Texas A&M, and began practice in 2004 in Hurst, Tx. My wife is a Jersey Village native so we moved to the area in 2010. I have been in equine, corporate small animal, private small animal, and emergency practice but have always dreamed of owning my own practice. I enjoy all facets of small animal practice but particularly surgery and puppy breath. My hobbies include fly fishing , and watching/complaining about Aggie football and the Astros. Having a practice that is integral to the community and provides a welcoming/at home feeling while still providing quality medicine is my main priority for The Oaks. I know we're new to the area, but look forward to meeting and growing with you.
Jefferey the dog is a native of Poteet, TX and was found outside of a Shell station when I stopped for gas going from Corpus to Uvalde. His hobbies are making goofy faces and counter surfing
Dr. Samantha Pulliam, DVM

Associate Veterinarian
Dr. Pulliam is a Texas native from the Fort Worth area. She is an A&M graduate and has been practicing veterinary medicine since 2015. During her free time, she helps at her parents' farm and enjoys traveling the country and abroad. She shares a home with her dog and cat, Rubie and Bagheera.
Appointment hours:
Mondays 9am-5:30pm
Wednesdays 9am-1:30pm
Dr. Shawn Van Fleet, DVM

Associate Veterinarian
Dr. Van Fleet was raised in south Texas and graduated from TAMU veterinary school in 2017. Her interests are preventative care and optimizing the quality of life for senior pets. She enjoys her free time with her "boy clan".
Appointment hours:
Thursdays and Fridays 9am-4:30pm
Management
Jessica  Hoffart

Licensed Veterinary Technician, Practice Manager
Jessica was born and raised in Katy. She now lives in Magnolia with her husband David, her children Beau, Taya, and Grant, two cats, and a flock of chickens. Jessica graduated from the Vet Tech Institute and became a licensed Veterinary Technician in 2012. She has a strong passion for Surgery & Anesthesia including Canine and Feline Dentistry. When she's not working, you can find her in her vegetable gardens, tending to her chickens, and spending time with her kids.
Client Service Coordinators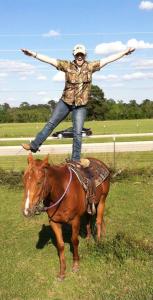 Dezi York

Client Service Coordinator
Dezi joined The Oaks Veterinary Clinic team in April 2021. She has been in the veterinary field since 2015, having started in the kennels and transferring to the reception side. She is currently attending college courses to become an elementary school teacher, as it is her passion. In her spare time, she spends as much time outdoors as she can, even in the Texas heat. She has five fur babies: two horses (Kasey and Kletus) and three dogs (Jasper, Penny and Wheeler).
Tiffany Ashby

Client Service Coordinator
Veterinary Technicians
Abby Miller

Licensed Veterinary Technician
Abby was born and raised in Houston, Texas. She is a recent graduate of the Lonestar College Veterinary Technician Program. She enjoys spending time with her family, friends, and fur babies.
Morgyn Roberts

Veterinary Technician
Morgyn was born and raised in Indiana, She currently resides in Hempstead, TX with her husband, Kyle, three horses, a donkey, several dogs and cats, and a large flock of chickens. Morgyn has a background in equine business management and has worked for the San Diego Humane Society's humane law enforcement team. Morgyn has a passion for both large and small animals alike and has spent much time fostering dogs and cats through local rescues (including foster failing). Morgyn enjoys spending time at home with her husband and animals, boating, refinishing furniture, and remodeling homes in her free time.
Morgan Teinert

Veterinary Technician
Morgan joined The Oaks in September of 2022. She was born and raised in Katy Texas. Morgan is also a recent graduate of Sam Houston State with her Bachelors in Animal Science with a Concentration in Pre-Vet. In her spare time she loves to hang out with her family, friends, and her sweet lab, Angel.